Hello! My name is Susan and I'll be filling in for Leah today
I blog over at The Great Balancing Act where I talk mostly about balancing out a healthy and active lifestyle with real life! It can be a real challenge sometimes, but I try my best, and sometimes even succeed

Now I know Leah is all about having "leftovers for lunch." And really, with the fabulous meals she whips up in her kitchen, I think it sounds wonderful! However, my job is on-the-go, and most days leftovers for lunch are not an option for me. I work as a reporter, and my days are spent bouncing around town from one assignment to the next. Most days, my lunch is scarfed down in the company car, snuck during a meeting or eaten at the closest cafe.
This means I have to cart around my food with me all day long. I have a little insulated purse that I put my food in with an ice pack. Then it gets stuffed into a much larger purse.
This helps a lot since I can't store my food in a fridge. It keeps my veggies crispy and cheese hard. It's still a little touchy with yogurt though.
Not only can I not put my lunch in a fridge, but I also can't heat it up! This is where leftovers really become hard to do. Who wants to eat cold spaghetti? Not me.
I also have to keep my lunches small. No big tupperware containers or bulky items. Also makes things like salads hard, unless I want to eat them out of a bag!

So. Enough with what I can't eat. Wanna see what I do eat?
Pitas are by far my favourite lunch item. They're like a salad I can eat with my hands (comes in handy if I have to eat while driving!)
My all-time favourite pita combo is turkey and hummus with basically every fresh veggie I have thrown in.
But I also often do cottage cheese, garbanzo beans, tuna, sardines, chicken, the possibilities are endless!
I also like to bring a lot of snacks with me. It can be tempting to just throw in a handful of bars, but I try to at least even it out a little. Homemade baked goods, fruit and veggies are great options.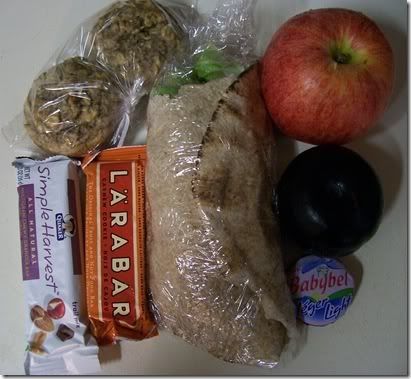 I do however find it difficult to get in enough protein, since many on-the-go snack foods are carb heavy. Things like cheese strings and veggie (or real) pepperoni slices are great high protein snacks.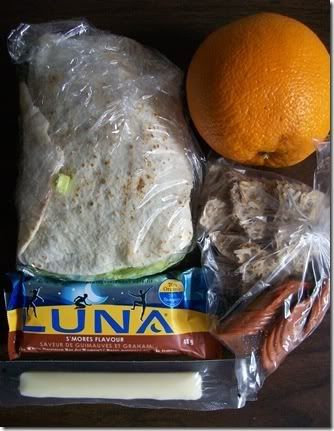 Finally, another one of my favourite snack options is homemade trail mix. I really like this because it's surprisingly filling and easy to eat while I'm running around!
The best thing about making it yourself is you can come up with any combo you want. I like any mix of peanuts, almonds, cashews, walnuts, pecans, soy nuts, macadamia nuts, raisins, dried mulberries, dried cranberries, chocolate chips, apricots, prunes, figs and dates.
Finding a time and place to eat is by far one of the most challenging aspects of my hectic job. But I'm adamant against falling prey to the lure of fast food while working. I know too many reporters who rely on easily accessible junk foods to get them through the day. Preparing my lunches every day does take a lot of extra time, but it's worth every extra minute!! I always get looks of jealousy when I whip out my pita at catered meetings, while my fellow journalists are left eating the soggy pizza that's provided.
Question of the day: What are some of your favourite on-the-go foods?
Filed under: Food Blogs, Guest Post